Looking to heat things up this season? Look no further than Center City for entertainment and delicious drinks to keep you warm! There are so many ways to fill up on hot drinks in Philadelphia, whether you're indoors or outdoors.
One of our favorite spots is Christmas Village at Love Park during this time of year. You can bet on finding a bazaar fill with candy, food, art, and gifts. They also offer a few specialty drinks to keep you warm while you shop around for yourself or someone special. The marketplace has three choices of hot chocolate: caramel, vanilla cinnamon, and hazelnut Don't hesitate to top each drink with syrup, marshmallows, or whipped cream!
Across the street at Dilworth Park Cafe, they're mixing it up with lattes, mochas, and hot chocolate. From festive flavors like chocolate turtle lattes and cinnamon dolce lattes to sweet raspberry hot chocolate, there's something for everyone. Our favorite is the peppermint white hot chocolate! You can even find three varieties of hot ciders: apple, chai, and caramel. There's plenty of reasons to stop by throughout the season with a carousel, ice skating rink, and a light show at night.
For adults, skip over to the Rothman Cabin about 50 feet away from Dilworth Park Cafe for extra festive hot drinks (wink). They offer an Effen Hot Toddy: Effen Apple Vodka mixed with hot apple cider. Or try an old-fashioned spiked hot chocolate with different flavors of vodka or whiskey. If you start to get too warm, there's the refreshing Harvest Mule to cool off.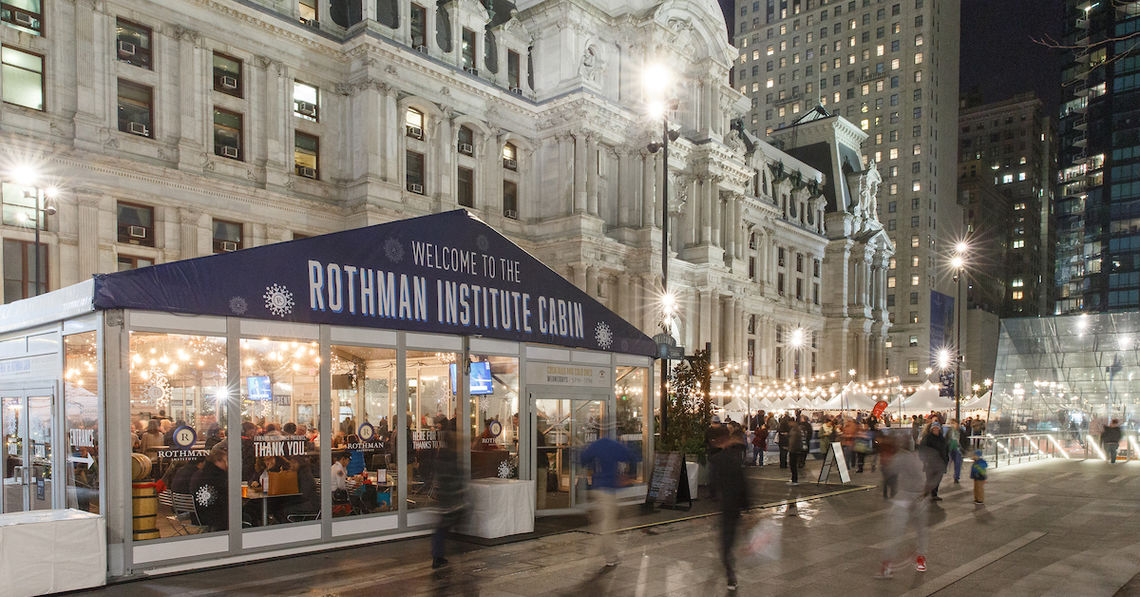 If you're ready to take it indoors, visit Shops at Liberty Place for quick pick-me-ups from some of your favorite stores. Stop at Saxby's for their signature holiday drink, a dark chocolate peppermint mocha. Even though it's loaded with festive peppermint flavor, you won't lose any of the chocolate taste you crave.
For the ultimate treat, find a hidden gem in South Philly called Rim Cafe. Load it up any beverage of your choice: espresso, coffee, cappuccino, latte, hot cider, tea, or specialty hot chocolates. Then watch your creation come to life before your eyes. Get as creative as you what with toppings! We highly recommend the Marshmallow Brulée! The hot chocolate comes stacked with caramelized marshmallows.
Holiday season is coming to a close soon, so visit the Christmas Village while you can. Enjoy Dilworth Plaza's entertainment and hot drinks all season long. And luckily, Saxby's and Rim Cafe are open year-round!